पंतप्रधानांनी युनिटारचे आभार व्यक्त केलेः
पंतप्रधान नरेंद्र मोदी यांनी यूएन प्रशिक्षण व संशोधन संस्था (युनिटार) चे आभार व्यक्त केले. युनिटारने नॉन-कम्युनिकेशनल रोगांमधून अकाली मृत्युदर कमी करण्याच्या भारताच्या उल्लेखनीय प्रगतीचे कौतुक केले आहे.
PM expresses gratitude to UNITAR:
The Prime Minister, Shri Narendra Modi has expressed gratitude to UN Institute for Training & Research (UNITAR). UNITAR has commended India's remarkable progress in reducing the premature mortality from Non Communicable Diseases.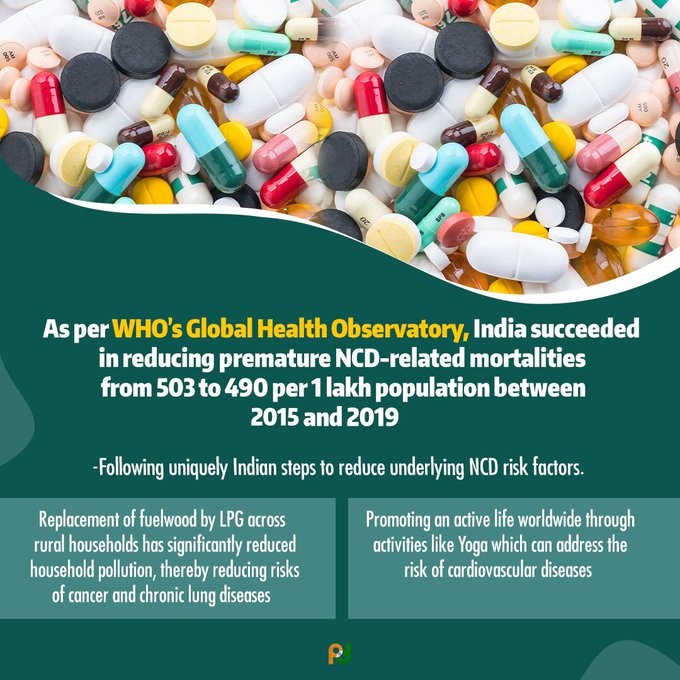 मेक इन इंडियाः
गुंतवणूक सुलभ करणे, नवकल्पना वाढवणे, वर्ग निर्मितीच्या पायाभूत सुविधांमध्ये उत्तम बांधकाम करणे, व्यवसाय करणे सोपे करणे आणि कौशल्य विकास वाढविणे या उद्देशाने मेक इन इंडिया उपक्रम 25 सप्टेंबर 2014 रोजी सुरू करण्यात आला. गुंतवणूकीसाठी अनुकूल वातावरण निर्माण करणे, आधुनिक व कार्यक्षम पायाभूत सुविधा निर्माण करणे, परदेशी गुंतवणूकीसाठी नवीन क्षेत्रे सुरू करणे आणि सकारात्मक मानसिकतेद्वारे सरकार आणि उद्योग यांच्यात भागीदारी निर्माण करणे.
लाँच झाल्यापासून मेक इन इंडिया पुढाकाराने महत्त्वपूर्ण कामगिरी केली असून सध्या मेक इन इंडिया 2.0 अंतर्गत 27 क्षेत्रांवर लक्ष केंद्रित केले आहे. उद्योग आणि अंतर्गत व्यापार संवर्धन विभाग उत्पादन क्षेत्रासाठी कृती योजनांचे समन्वय करीत आहे, तर वाणिज्य विभाग सेवा क्षेत्रांचे समन्वय करीत आहे. मेक इन इंडिया २.० अंतर्गत क्षेत्रांची यादी खालीलप्रमाणे आहे.
'मेक इन इंडिया' उपक्रमांतर्गत 27 क्षेत्रांची यादी
उत्पादन विभाग:
I. एरोस्पेस आणि संरक्षण
II. ऑटोमोटिव्ह आणि ऑटो घटक
III. औषध आणि वैद्यकीय उपकरणे
IV. जैव तंत्रज्ञान
V. भांडवली वस्तू
VI. कापड आणि परिधान
VII. रसायने आणि पेट्रो रसायने
VIII. इलेक्ट्रॉनिक्स सिस्टम डिझाइन अँड मॅन्युफॅक्चरिंग (ईएसडीएम)
IX. लेदर आणि पादत्राणे
X. फूड प्रोसेसिंग
XI. रत्ने आणि दागिने
XII. शिपिंग
XIII. रेल्वे
XIV. बांधकाम
XV. नवीन आणि नूतनीकरणयोग्य ऊर्जा
सेवा विभाग:
XVI. माहिती तंत्रज्ञान आणि माहिती तंत्रज्ञान सक्षम सेवा (आयटी आणि आयटीएस)
XVII. पर्यटन आणि आतिथ्य सेवा
XVIII वैद्यकीय मूल्य प्रवास
XIX. परिवहन आणि रसद सेवा
XX लेखा आणि वित्त सेवा
XXI. ऑडिओ व्हिज्युअल सर्व्हिसेस
XXII. कायदेशीर सेवा
XXIII. संप्रेषण सेवा
XXIV. बांधकाम आणि संबंधित अभियांत्रिकी सेवा
XXV. पर्यावरण सेवा
XXVI. आर्थिक सेवा
XXVII. शिक्षण सेवा
Make in India:
Make in India initiative was launched on September 25, 2014 with the objective of facilitating investment, fostering innovation, building best in class manufacturing infrastructure, making it easy to do business and enhancing skill development. The initiative is further aimed at creating a conducive environment for investment, modern and efficient infrastructure, opening up new sectors for foreign investment and forging a partnership between government and industry through positive mindset.
Since its launch, Make in India initiative has made significant achievements and presently focuses on 27 sectors under Make in India 2.0. Department for Promotion of Industry and Internal Trade is coordinating action plans for manufacturing sectors, while Department of Commerce is coordinating service sectors. The list of sectors under Make in India 2.0 is as under:
List of 27 Sectors under 'Make in India' initiative
Manufacturing Sectors:
I. Aerospace and Defence
II. Automotive and Auto Components
III. Pharmaceuticals and Medical Devices
IV. Bio-Technology
V. Capital Goods
VI. Textile and Apparels
VII. Chemicals and Petro chemicals
VIII. Electronics System Design and Manufacturing (ESDM)
IX. Leather & Footwear
X. Food Processing
XI. Gems and Jewellery
XII. Shipping
XIII. Railways
XIV. Construction
XV. New and Renewable Energy
Service Sectors:
XVI. Information Technology & Information Technology enabled Services (IT &ITeS)
XVII. Tourism and Hospitality Services
XVIII. Medical Value Travel
XIX. Transport and Logistics Services
XX. Accounting and Finance Services
XXI. Audio Visual Services
XXII. Legal Services
XXIII. Communication Services
XXIV. Construction and Related Engineering Services
XXV. Environmental Services
XXVI. Financial Services
XXVII. Education Services
सशस्त्र दलात नवीन शस्त्रे समाविष्ट करणे:
सशस्त्र दलात नवीन विमान, शस्त्रे इत्यादींचा समावेश करणे ही एक सतत प्रक्रिया आहे. या संदर्भातील अलीकडील महत्वाच्या अभिप्रायांचा तपशील खालीलप्रमाणे आहेः
भारतीय सेना:
(i) चीतल हेलिकॉप्टर
(ii) अ‍ॅडव्हान्स लाइट हेलिकॉप्टर (ALH) मार्क 0 / I / II / III.
(iii) एएलएच (वेपन सिस्टम इंटिग्रेटेड [डब्ल्यूएसआय]).
(iv) 20 मिमी बुर्ज गन – एएलएच (डब्ल्यूएसआय) प्लॅटफॉर्मसह समाकलित.
(v) 70 मिमी बुर्ज गन – एएलएच (डब्ल्यूएसआय) प्लॅटफॉर्मसह समाकलित.
भारतीय नौदल:
(i) डोर्नियर 228 विमान
(ii) अ‍ॅडव्हान्स लाइट हेलिकॉप्टर (ALH MK III)
(iii) चेतक हेलिकॉप्टर
(iv) पी 81 विमान
भारतीय हवाई दल:
(i) राफेल विमान
(ii) हलकी लढाऊ विमान
(iii) सी -17 आणि सी -130 परिवहन विमान
(iv) चिनूक आणि अपाचे हेलिकॉप्टर
सशस्त्र दलात एलसीएच आणि एलयूएच हेलिकॉप्टरची नेमणूक करून सरकार "आत्मनिभार भारत" योजनेला चालना देण्यासाठी वचनबद्ध आहे.
आतापर्यंत, फेब्रुवारी 2021 पर्यंत सरकारने संरक्षण क्षेत्रातील विविध वस्तूंच्या उत्पादनासाठी 523 औद्योगिक परवाने दिले आहेत.
Induction of New Weapons in Armed Forces:
The induction of new aircraft, weapons etc into the Armed Forces is a continuous process. The details of important recent inductions in this regards are as under:-
Indian Army:
(i) Cheetal Helicopters.
(ii) Advanced Light Helicopters (ALH) Mark 0/I/II/III.
(iii) ALH (Weapon System Integrated [WSI]).
(iv) 20 mm Turret Gun – Integrated with ALH (WSI) platform.
(v) 70 mm Turret Gun – Integrated with ALH (WSI) platform.
Indian Navy:
(i) Dornier 228 aircraft
(ii) Advance Light Helicopters (ALH MK III)
(iii) Chetak Helicopters
(iv) P81 aircraft
Indian Air Force:
(i) Rafale aircraft
(ii) Light Combat Aircraft
(iii) C-17 and C-130 transport aircraft
(iv) Chinook and Apache Helicopters
The Government is committed to boost "Atmanirbhar Bharat" scheme by inducting LCH and LUH helicopters in Armed Forces.
So far, till February 2021, the Government has issued 523 Industrial licenses for manufacturing of various items in Defence sector.
हिंदुस्तान एरोनॉटिक्स लिमिटेड (एचएएल):
एचएएलद्वारे उत्पादित संरक्षण उपकरणांची यादी खाली दिली आहे: –
लढाऊ विमाने:
I. सुखोई -30 एमकेआय
II. लाइट कॉम्बॅट एअरक्राफ्ट (एलसीए)
III. मिग -21 / बायसन
IV. जग्वार
प्रशिक्षक विमाने:
I. किरण एमके I/II
II. हॉक
परिवहन विमान:
I.डो -228
II. एच एस-748
हेलिकॉप्टर:
I. अ‍ॅडव्हान्स लाइट हेलिकॉप्टर (ALH)
II. चेतक
III. चित्ता
IV. चितळ
एचएएल विमान / हेलिकॉप्टर्ससाठी आवश्यक इंजिन, संप्रेषण उपकरणे, नेव्हिगेशन उपकरणे, डिस्प्ले सिस्टम, हायड्रॉलिक सिस्टम, इलेक्ट्रिक उपकरणे इत्यादींचे उत्पादनही करीत आहे.
सध्या, भारतीय संरक्षण सेवांच्या वापरात असलेल्या एकूण हवाई वाहतुकींपैकी एचएएलने सुमारे ६१% पुरवठा केला आहे आणि 75% सर्व विमान / हेलिकॉप्टरला सहाय्य देत आहे.
Hindustan Aeronautics Limited (HAL):
The list of defence equipment manufactured by HAL is given below:-
Fighters:
I. Su-30MKI
II. Light Combat Aircraft LCA
III. MiG-21/Bison
IV. Jaguar
Trainers:
I. Kiran MK I/II
II. Hawk
Transport Aircraft:
I. Do-228
II. HS-748
Helicopters:
I. Advanced Light Helicopter (ALH)
II. Chetak
III. Cheetah
IV. Cheetal
HAL is also manufacturing Engines, Communication equipment, Navigation equipment, Display systems, Hydraulic systems, Electric equipment etc., required for aircraft/helicopters.
Currently, out of the total airborne fleet in use by Indian Defence Services, HAL has supplied about 61% and is supporting 75% of all the aircrafts/helicopters.
जागतिक हवामान दिन साजरा आणि हवामान डेटा पोर्टलचे उद्घाटन, आयएमडी- आझादी का अमृत महोत्सवाचे एसओपी आणि ब्रोशर्सचे प्रकाशन:
भारतीय हवामान खात्याने जागतिक हवामान दिन साजरा केला: 23 मार्च 2021 रोजी आझादी का अमृत महोत्सव.
World Meteorological Day celebrations and Inauguration of Climate Data Portal, Release of SOPs and Brochures of IMD- Azadi Ka Amrit Mahotsav:
India Meteorological Department celebrated World Meteorological Day: Azadi Ka Amrit Mahotsav on 23rd March, 2021.