1. वैशिष्ट्यूपर्ण परदेशी ड्रॅगनफ्रूट किंवा कमलमची महाराष्ट्रातून दुबई इथं निर्यात:
– ड्रॅगन फळाचे शास्त्रीय नाव हायलोसेरेयुसुंडेटस असून मलेशिया, थायलंड, फिलिपाईन्स, अमेरिका आणि व्हिएतनाम या देशांमध्ये ही फळे पिकवली जातात.
– भारतात 1990 च्या सुरुवातीला ड्रॅगनफ्रूटचे उत्पादन घ्यायला सुरुवात झाली. गेल्या काही वर्षात ड्रॅगनफ्रूटची लोकप्रियता वाढली असून देशातील विविध राज्यातले शेतकरी याची लागवड करु लागले आहेत.
– या फळाची लागवड सध्या प्रामुख्याने कर्नाटक, केरळ, तामिळनाडू, महाराष्ट्र, गुजरात, ओदिशा, पश्चिम बंगाल, आंध्र प्रदेश आणि अंदमान निकोबार बेटे इथे केली जाते.
– याच्या लागवडीसाठी पाणी कमी लागते. तसेच विविध प्रकारच्या मातीतही ते उगवते. सफेद गर आणि गुलाबी साल, लाल गर आणि गुलाबी साल तसेच सफेद गर आणि पिवळी साल हे याचे प्रामुख्याने तीन प्रकार आढळतात.
– या फळात तंतूमय पदार्थ, जीवनसत्वे, खनिजे आणि अँटी ऑक्सीडंट असतात. ऑक्सीडेटीव ताणामुळे पेशींचे झालेले नुकसान भरुन काढणे, दाह कमी करणे आणि पाचन व्यवस्था सुधारणे या कामी ड्रॅगन फळ उपयोगी आहे. कमळासारख्या पाकळ्या असल्याने याला कमलम असेही म्हणतात.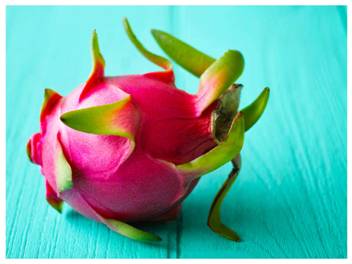 Exotic dragon fruit or Kamalam from Maharashtra exported to Dubai:
– Scientifically referred to as Hylocereusundatus, the dragon fruit is grown in countries such as Malaysia, Thailand, the Philippines, the USA and Vietnam.
– Dragon fruit production commenced in India in early 1990s and was grown as home gardens. Dragon Fruit has become increasingly popular in recent years in the country as it has been taken up for cultivation by farmers across various states.
– At present, dragon fruit is grown mostly in Karnataka, Kerala, Tamil Nadu, Maharashtra, Gujarat, Odisha, West Bengal, Andhra Pradesh, and Andaman and Nicobar Islands.
– The cultivation requires less water and can be grown in various kinds of soils. There are three main varieties of dragon fruit: white flesh with pink skin, red flesh with pink skin, and white flesh with yellow skin.
– The fruit contains fiber, vitamins, minerals, and antioxidants. It can help in repairing the cell damage caused by oxidative stress and reduce inflammation, and also improving the digestive system. Since the fruit has spikes and petals resembling lotus, it is also referred as 'Kamalam'.
2. युरोप आणि आफ्रिकेतील मित्रदेशां बरोबर आयएनएस तबर करणार संयुक्त नौदल सराव:
– मित्र राष्ट्रांबरोबर सामरिक सहकार्य वाढवण्याच्या दृष्टीने भारतीय युद्धनौका आयएनएस तबर तैनात केली असून. या अंतर्गत 13 जून रोजी तिचा सुरु झालेला प्रवास युरोप आणि आफ्रिकेतील विविध बंदरांना भेट देत सप्टेंबर अखेरपर्यंत चालणार आहे. बंदरांच्या भेटीदरम्यान व्यावसायिक, सामाजिक आणि क्रीडा विषयक कार्यक्रमात तबर सहभागी होईल. याबरोबरच मित्र राष्ट्रांच्या नौदलांबरोबर संयुक्त सरावातही तबर भाग घेणार आहे.
– तैनातीच्या या काळात आएनएस तबर, जीबुती, इजिप्त, इटली, फ्रान्स, इंग्लड, रशिया, नेदरलँड, मोरोक्को आणि आर्क्टिक परिषदेच्या स्वीडन, नॉर्वे यासारख्या देशातील बंदरांना भेट देत एडनचे आखात, लाल समुद्र, सुएझ कालवा, भूमध्य समुद्र, उत्तर सागर आणि बाल्टिक समुद्र पार करणार आहे.
– यजमान देशांबरोबरच्या सरावासह शाही नौदला बरोबर कोकण, फ्रेंच नौदला बरोबर वरुणा आणि रशियन महासंघाच्या नौदला सोबत इंद्र या द्विपक्षीय युद्धसरावातही तबर युद्धनौका भाग घेणार आहे. तबर, 22 ते 27 जुलै याकाळात रशिया नौदल दिवस सोहळ्यातही सहभागी होईल.
– सामरिक संबंध दृढ करणे, आंतर- परिचालनक्षमता विकसित करणे आणि दीर्घ शाश्वत भागीदारीसाठी मित्र राष्ट्रांच्या नौदलांच्या समन्वयाने तबर काम करणार आहे. सागरी क्षेत्रातील हित जपण्याला प्राधान्य देत भारतीय नौदलाकडून नियमितपणे अशी जहाजे तैनात केली जातात. सागरी क्षेत्रातील आव्हानां विरोधात एकत्रित कारवाई करणे आणि प्रदेशात सागरी सुरक्षा वाढवणे हा या प्रकारच्या सरावांचा उद्देश असतो. याप्रकारचे परस्पर संयोजन हा एकमेकांच्या नौदलातील सर्वोत्तम पद्धतींचे निरीक्षण करण्याची आणि त्या आत्मसात करण्याचीही संधी देतात.
– आयएनएस तबर ही तलवार श्रेणीतली युद्धनौका असून तिची बांधणी भारतीय नौदलासाठी रशियात झाली आहे. युद्धनौकेचे प्रमुख कॅप्टन एम महेश असून त्यांच्या नेतृत्वाखाली 300 जण कार्यरत आहेत. अत्याधुनिक शस्त्रास्त्र आणि सेन्सर्सने ही सज्ज असून भारतीय नौदलातील सर्वात आधीच्या स्टिल्थ फ्रिगेट मधील आहे. मुंबईत मुख्यालय असलेल्या नौदलाच्या पश्चिम विभागा अंतर्गत भारतीय नौदलाच्या पश्चिम फ्लीटचा, तबर भाग आहे.
INS TABAR DEPLOYED TO PARTICIPATE IN JOINT EXERCISES WITH FRIENDLY NAVIES IN AFRICA AND EUROPE:
– Towards enhancing military cooperation with friendly nations, Indian Naval Ship Tabar commenced her prolonged deployment on 13 June and will visit a number of ports in Africa and Europe till end September. During port visits, Tabar will conduct professional, social and sporting interactions. The ship will also participate in a number of joint exercises with friendly navies.
– During the deployment, INS Tabar will transit across the Gulf of Aden, Red Sea, Suez Canal, Mediterranean Sea, North Sea and Baltic Sea while making port calls at Djibouti, Egypt, Italy, France, UK, Russia, Netherlands, Morocco, and Arctic Council countries like Sweden and Norway. In addition to PASSEX with host navies of countries being visited, the ship is also scheduled to participate in bilateral exercises like Ex Konkan with Royal Navy, Ex Varuna with French Navy and Ex Indra with Russian Federation Navy.
– The deployment will also see participation by the ship in the Russian Navy Day celebrations from 22 to 27 July.
– The ship will operate in conjunction with the friendly navies, so as to build military relations, develop interoperability and project long range sustenance. IN undertakes regular overseas deployments particularly in the maritime areas of primary interest. These engagements are aimed to further strengthen maritime security in the region and to consolidate combined operations against maritime threats. These interactions will also offer an opportunity to navies to observe and imbibe the 'Best Practices' followed in each other's Navy.
– INS Tabar, is a Talwar-class stealth Frigate built for Indian Navy in Russia. The ship is commanded by Captain M Mahesh and has a complement of 300 personnel. The ship is equipped with a versatile range of weapons and sensors and is among the earliest stealth frigates of the Indian Navy. The ship is part of the Indian Navy's Western Fleet which is based at Mumbai under Western Naval Command.
3. ऑप्टोइलेक्ट्रॉनिक्स, स्वयं-शक्तीच्या डिव्हाइससाठी कमी किंमतीत, जैव-सुसंगत नॅनोजेनरेटर्स कंपनपासून वीज काढू शकतात:
– वैज्ञानिकांनी एक सोपा, कमी-प्रभावी, जैव-सुसंगत, पारदर्शक नॅनोजेनेरेटर बनविला आहे जो ऑप्टोइलेक्ट्रॉनिक्स, स्वयं-चालित साधने आणि इतर बायोमेडिकल अप्लिकेशन्सच्या वापरासाठी कंपनपासून वीज निर्मिती करू शकतो.
– वीज निर्मितीसाठी काही अपारंपरिक पद्धतींमध्ये पायझोइलेक्ट्रिक, थर्माइलेक्ट्रिक आणि टच स्क्रीन, इलेक्ट्रॉनिक डिस्प्ले इत्यादी उपकरणांमध्ये वापरल्या जाणार्‍या इलेक्ट्रोस्टेटिक तंत्रांचा समावेश आहे.
– ट्रिबॉइलेक्ट्रिक नॅनोजेनेरेटर्स (टीईएनजी) विद्युत निर्मितीसाठी वेगवेगळ्या स्वरूपात सर्वत्र उपस्थित कंपनांच्या रूपात यांत्रिक ऊर्जेचा उपयोग करतात. उर्जा कापणी करणारे टीईएनजी यांत्रिक शक्तीद्वारे दोन संपर्क केलेल्या पृष्ठभागामध्ये जेव्हा एक जुळत नाही तेव्हा दोन भिन्न सामग्रीचा त्वरित शारीरिक संपर्क द्वारे इलेक्ट्रोस्टॅटिक चार्ज तयार करण्याच्या तत्त्वावर कार्य करते. ही यंत्रणा इलेक्ट्रोनला ट्रिबॉ थरांच्या मागच्या बाजुला लेपित केलेल्या फिल्म पुढे सरकविण्यासाठी प्रवृत्त करते. टीईएनजी डिझाइन करण्यासाठी आजपर्यंत वापरलेली पद्धत फोटोलिथोग्राफी किंवा रिएक्टिव आयन एचिंग यासारख्या महागड्या फॅब्रिकेशन पद्धतींचा वापर करते, आणि इलेक्ट्रोड तयार करण्यासारखी अतिरिक्त प्रक्रिया इत्यादी.
Cost-effective, bio-compatible nanogenerators can harvest electricity from vibrations for optoelectronics, self-powered devices:
– Scientists have fabricated a simple, cost-effective, bio-compatible, transparent nanogenerator that can generate electricity from vibrations all around for use in optoelectronics, self-powered devices, and other biomedical applications.
– Some of the unconventional methods to generate electricity include piezoelectric, thermoelectric, and electrostatic techniques used in devices like touch screens, electronic displays, and so forth.
– The triboelectric nanogenerators (TENG) make use of mechanical energy in the form of vibrations present everywhere in different forms to generate electricity. The energy harvesting TENG works on the principle of creation of electrostatic charges via instantaneous physical contact of two dissimilar materials followed by generation of potential difference when a mismatch is introduced between the two contacted surfaces through a mechanical force. This mechanism drives the electrons to move back and forth between the conducting films coated on the back of the tribo layers. The method employed till date to design TENG use expensive fabrication methods like photolithography or reactive ion etching, and additional process like electrode preparation and so on.